4th graders learned a little bit about the artist Andy Warhol and his special blotted line technique. He started his first prints with this process where he would draw with wet ink and before it dried he would lay a paper on top. Then smooth the back and peel off to produce a textured, uneven lined print. He was soon hired to make advertisements for shoes in Vogue magazine using this technique. He even made some holiday themed ones (the ones from below). We made our own ornaments using the same technique! Then filled in with pattern and line pattern with lots of color! Check em out!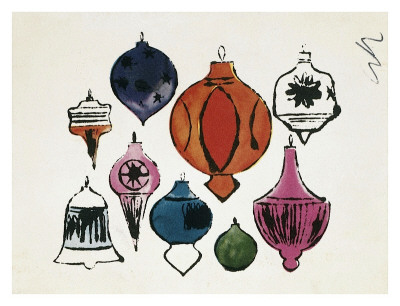 place copy underneath the clear printing plate then carefully using plastic bristle
brushes, dip into 'ink' (watered down black paint)
Then quickly before it dries, place a paper on top without moving it around
...then peel off to reveal print!
this student went very in depth with their pattern using pencil first befor filling in with colored pencil!
...we drew a string hanging from each with a rectangle to show where the metal piece holds onto the ornament