2nd graders learned all about Vincent Van Gogh as an artist and made our own 3-D version of his famous Sunflower painting study below.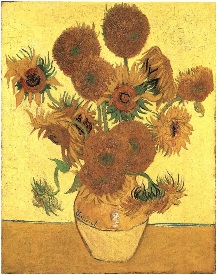 2nd graders first drew with pencil Vincent's vase. We drew these on a small slip of paper and showed a short cut on how to start the vase from the bottom of the paper so it's flat on the bottom. Then we talked about how to draw a sunflower. It is different from the traditional daisy most students know how to make. We talked about how the center is a large brown circle and how the petals are short and pointed, and there's lots of them. We agreed it did look like a sun! Name/class on the back in the middle (for when they get cut out!)
After drawing, I let students know that they could either use oil pastels or crayons to color. First we outlined the vase with yellow. Color in the top stripe solid. Then yellow oranges and yellows for the sunflowers and green stems.
Then I had containers of watered down yellow paint to be like "yellow watercolor" but everyone's was the same consistancy so this worked great! (Becky Brandt, you taught me everything!) Paint over the top so it's like a crayon resist! Next, get a sheet of yellow 9x12 construction paper. Fold in half. Paint one side with watered down brown paint for the table.
Brown watercolor on one side
Let dry for next time! (We watched "Getting Know the World's Greatest Artists: Vincent Van Gogh" for half the time to learn about the artist and did the first half of this project). Now once everything is dry, fold the yellow constrution paper in half. Cut two slits ON THE FOLD half way down.
Open up and pop out the middle, make fold so it then looks like a chair.
I told students to put glue on the 'wall' the part that sticks out. Then cut out the flowers and vase and glue on so it looks like the vase is sitting, NOT floating on the table. Viola! Vincent Van Gogh 3-D sunflowers!